Mold Damage? No Problem!
9/4/2019 (Permalink)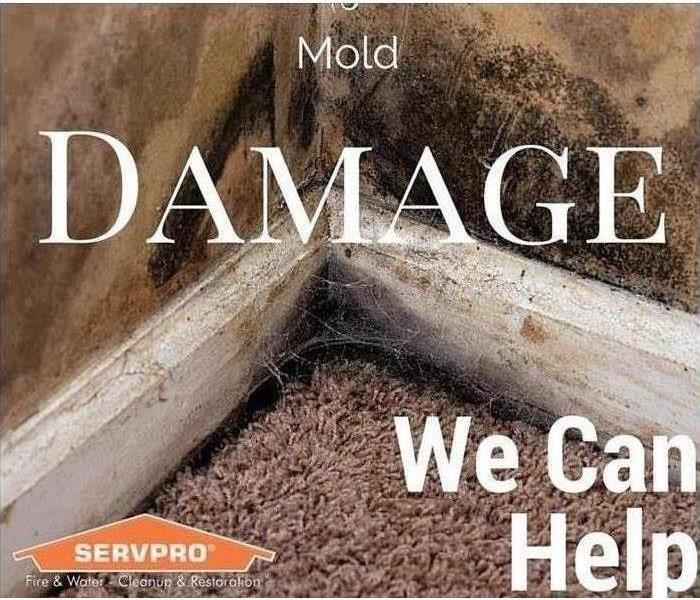 What Are The Correct Steps To Take When You Find Mold Damage in Your Home?
Indoor accumulation of water may lead to mold damage, a situation which can damage your property or lead to health effects. It is possible to prevent or minimize indoor mold growth. However, that is possible if you actively maintain, inspect, and correct your structure for water intrusion challenges. Since not everyone has the skills and tools to do such procedures, you can work with professionals to immediately dry and manage your water-damaged contents in Metairie.
Our SERVPRO technicians use the right PPE when dealing with mold damage incidents in Metairie. For instance, when the area with the contamination is so large ( over 100 square feet ) we have to follow the OSHA respiratory protection standards. We wear appropriate eye protection, gloves, half-face elastomeric respirators fitted with P-100 filters, and body coveralls with foot and head coverings.
During the remediation process, we avoid the use of work practices which are likely to generate excessive dust and use dust suppression methods. For instance, we can use a vacuum fitted with a HEPA filter during dust generation or use HEPA vacuum-shrouded tools. Before removing the mold spores, we can gently mist the surface using a detergent solution.
Our SERVPRO team cleans materials that have the mold contamination using detergents with anti-microbial abilities. If we come across permanently damaged items, we put them in sealed plastic bags and clean the outside of the bags using a damp cloth dipped in a detergent solution. We can also HEPA-vacuum the bags within the work area before taking them out.
Regardless of the level of mold contamination, our SERVPRO of Metairie technicians always communicate with the occupants of the affected buildings. Communication presents us an opportunity of letting them know about our remediation measures and the duration the process is likely to take. We readily provide copies of all inspection reports upon request and perform group meetings before and after the work to disclose plans and results.
If you think you home or business is infested with mold please call 504-468-3046